ATTENTION GCCS COMMUNITY!
GCCS Community - As we expected, with such a big transition in some of our Educational Platforms, We and You have experienced some difficulties throughout the process. We understand your frustrations and are working hard to help everyone with their needs and questions. We want to say thanks for your continued patience and understanding as we overcome the hurdles in front of us. Please continue to reach out and we will continue to do our best to help, answer or address your questions and concerns. Thanks!
To all GCCS Teachers!
Attn GCCS Community: We understand that many of you are in the process of creating your PVUE accounts and we are doing our best to keep up with your calls for assistance. We appreciate your patience as we work through this process. Thanks and have a great day!
Attn GCCS Community! Online Registration begins on Monday, July 25. Once it is open, we ask that you review our website for details on the process. You can start here
https://www.gccs.k12.nm.us/page/enrollment
to review enrollment requirements and then move to
https://www.gccs.k12.nm.us/page/create-paretntvue-account
to create your ParentVue account by downloading the available pdf and follow the instructions provided. Once your PVUE account is created you can then move on to
https://www.gccs.k12.nm.us/page/online-registration
to begin your student enrollment. Should you have any issues or questions, please reach out to your child's school for assistance. Please understand that this process is not only new to you but to our staff as well. So thank you in advance for your patience and understanding. Have a Great Weekend!
Hello GCCS Community. We know that everyone is anxiously awaiting the opportunity to begin enrolling your students for the coming school year. Well rest assured that your time is coming. We will begin Online Registration/Enrollment on Monday, July 25th. We are working diligently to ensure the platform is up and running for you. Please follow us for more information in the coming days. Thanks for your patience and understanding as we transition to a new Platform called SYNERGY.
ATTENTION GCCS COMMUNITY
Regular School Board Meeting Schedule.
Hello Grants Community- As you all know we are replacing our Student information system, and soon current students and families will receive information on setting up accounts. Our new Students will also receive information on the On line Registration Process. We also have more Big News! We still have some slots open for our Pre-K Program at Mt Taylor. Parents Please go by the Schools and fill out an information Sheet, and as soon as the On line Registration Portal is open the information will be made available. Thank you all for your support, and we look forward to having your Pre-K students at GCCS
Attention GCCS Community - As the new school year approaches, we want you to be aware that the district is replacing our Student Information System with a new one. We will no longer be using PowerSchool and will now be using Synergy! This is an exciting time for all of us. With Synergy, we will have an Online Registration Portal for parents to be able to enroll new students as well as update current student's information. We appreciate your patience as we get this new platform up and running. We will be sending out information to all current student families on the process to setup your Parent and Student accounts very soon as well as information on the Online Registration Process for new students. Be on the lookout for this info coming very soon. Thanks again for your cooperation and support.
UPDATE! The Special Ed Coordinator position has been changed from a Coordinator to a Director. Please check it out and reach out to Lisa Salazar at 505-285-2606 for more information.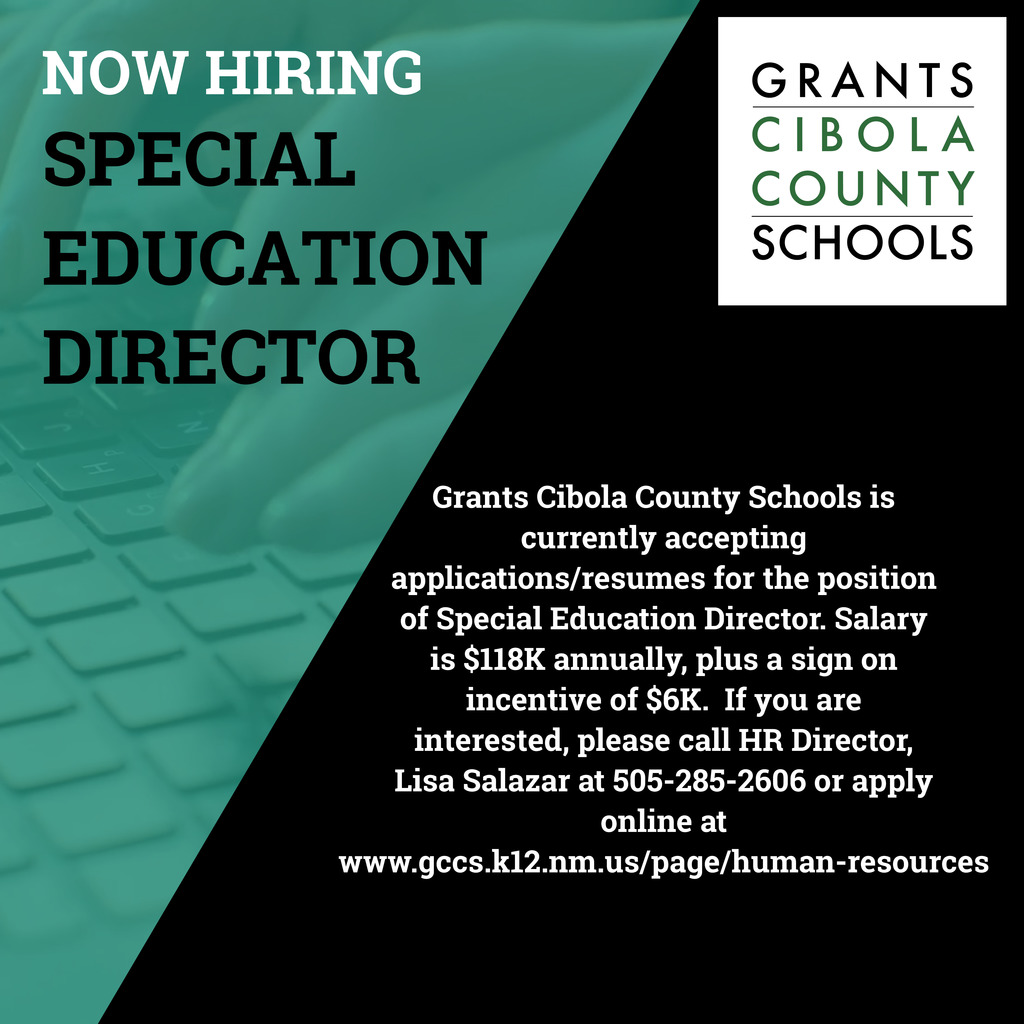 To all District Staff, Students & Families.
Regular School Board Meeting
ATTENTION GCCS COMMUNITY:
The final results of the Empower Your Words Competition are: 1st Place Mrs. Holden's 4th Grade class, Mesa View 2nd Place - Kenneth Yasteya, 6th grade, Cubero Elementary 3rd Place - Landyn Brown, Kindergarten, Mt. Taylor Elementary
ATTENTION!!! GCCS is hiring Temporary Summer Groundskeepers! June and July, 20 hours a week at $16.00 an hour. Reach out to our HR Department at 505-285-2608 or 505-285-2606. Thanks!